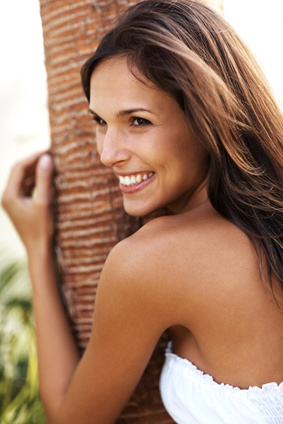 Flirting for women…easy.
The mistake that many women make is OVERDOING flirting.
Effective flirting involves using subtle moves that lures in your bait (love interest) AND gets him interested in learning what you are all about.
By now, you probably know I'm a big fan of Kara Oh's From Flirting to Forever. Not because you learn how to get men to approach you, but because you learn what to do and say to keep his interest when you are first dating. And THAT is the most important thing.
Once you finish reading this lesson, you will know what you need to do in order to get a man to approach you. It's so simple you can do it right away, over and over again to get new prospects (dates).
BUT most women miss out on the 3 essential characteristics that contribute to your ability to flirt effectively. These are:
Do you have this?
What type of attitude do you have? How do you feel about yourself? You should have a positive attitude understanding that you might have a few misses before you get your big hit.
Also, you should be confident enough to not focus too much on the reaction of your intended target. If it's for you, you definitely won't miss it, and if it isn't, thank God that you found out early rather than later.
What are you wearing? Some women get it all wrong.
While your physical appearance will not ensure success in flirting, it plays a large part of how you feel about yourself. Choose clothing that you have previously received compliments on, preferably from several sources, and above all clothing that is comfortable and that you feel good about.
It makes no sense to have a nice outfit if you can't breathe correctly or have a continuing intense itch from uncomfortable fabric when someone approaches you. That is far from sexy.
Also you will want to remember to dress like a woman. Don't be afraid to wear a dress, a skirt or high heels. Women who dress feminine get attention. If you want to be INVISIBLE to men, just dress in male type clothing.
I recently found a blog that I absolutely love about dressing fashionably on a budget, you can check it out here.
Click here for J's Fashion Blog
Men like women who are actually dressed like women, that's what makes you different from him. And it gives you an extra flirting boost since a lot of women today fail to dress like women in casual situations.
So the next time you go to the grocery store or to get some gas for your car. Wear something feminine. Men love it and they WILL notice.
Personality
This just means that you have to have something going for yourself. You can't just be all looks. What is beyond your looks? What are your interests? What are you passionate about? What do you like to do in your free time? All of this makes up your personality.
Now that we have discussed the qualities that are imperative to have before flirting, let's move onward to the actual flirting process.
Here are 2 flirting technique that work:
1. The Gaze Technique
Using your eyes is a very effective way to flirt. A lot of women get it wrong here. They either stare at the guy too long or they glance so quickly that he doesn't even notice that you are looking at him.
Here's the key: Give him a slight gaze and then turn away.
USE WITH CAUTION: This Is a Very Powerful Technique That Should ONLY Be Use If You Are Ready To Have Him Approach You.
You should gaze (not stare) at him for 3-5 seconds and then turn away. This will automatically let him know that you are interested. Repeat this action 2 or 3 times and if he is into you, he WILL come over and talk to you.
And when he approaches you…
You should use this same technique, but this time splitting your attention between his eyes and his mouth when he's talking. So give him a slight gaze in the eyes and then slowly focus your attention on his mouth and repeat.
What do I say when he approaches me?
Quick answer: Let him lead the conversation, don't feel the need to control the situation.
I know the biggest thing for me was not getting guys to approach me but really knowing what to say when they did that didn't make me seem nervous or too excited when they came over. From Flirting to Forever helps here.
2. Men can't resist this one thing.
I want you to try this the next time you are out. If you have not done it before, I admit, it can be slightly uncomfortable but the more you use it the better you will get at it and once you perfect it, you will get more men that you ACTUALLY like to approach you.
Ok, here it is, the next time you see an attractive man that you are interested in, look him in his eyes and smile. You might want to practice on other people you aren't that attracted to at first.
This makes it easier if the person doesn't reciprocate.
But eventually you should work your way up to men you are actually attracted to. You will be amazed at how many men smile back and a few may even approach you.
Smiling is a very effective way of flirting. It lets him know that it is O.K. to approach you.
But in order for your smile to result in him approaching you, you have to use it along with the GAZE TECHNIQUE. You will need to look away after you gaze and smile and then look at him again.
Why do I have to look at him again?
If you smile at him once, he may assume you are just being friendly. The one thing that guys fear is them approaching you and your boyfriend comes up from behind.
A second smile lets him know that you are AVAILABLE and it is ok to approach you.
When you smile you are letting your guard down and making him comfortable in approaching you. Be careful not to grin or give a smile that is not genuine. Men as well as women can sense sincere body language as opposed to it being forced.
BEWARE: Don't do this when flirting
1. Playing excessively with hair
2. Wiggling and moving in chair
3. Staring at guys that peaks your interest and "pouting"
These things are very childish and make men feel uncomfortable.
>>Click here for the From Flirting to Forever Guide<<
Until next time,
Robyn Lee
Are you on Facebook? Like my fan page for updates to my blog.